Do you want to create a unique and original Product?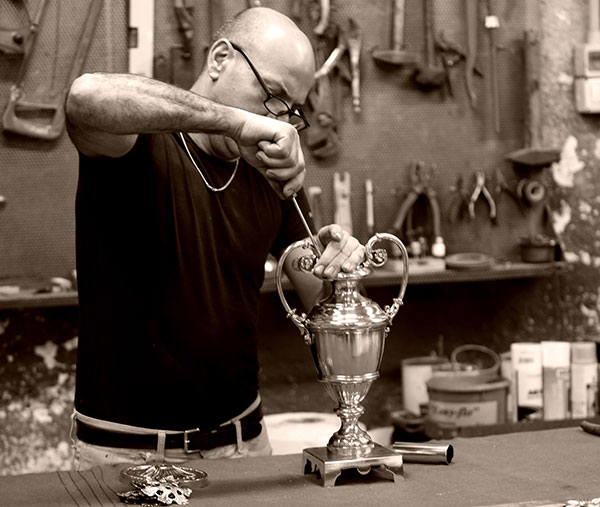 We realize original and of unique touch Ex-Novo furnishing pieces for both interiors and exteriors.
We like, whenever possible, to combine the use of different materials with the same piece.
We have, for instance, created several tables suited for verandas made out of the wrought-iron based structure with majolica on top.
It has to be reminded about our realizations of seatings by using time-honoured wooden boards as a top and wrought iron bases obtained from ancient sun loungers. We have also made, among this genre, some larger sizes to be used as a TV stand.
We create, upon request, the design of well-equipped walls whose structure was purely made up of brass bars and wooden shelves.
We have, by the recovery of doors of an ancient building, extracted some ballroom tables and used these as a wrought iron top and bottom bases respectively.
We apply a "shabby-chic" finishing method on the "poor art" furniture, to render these pieces even more appealing for the rustic environment. It has, this technique, carried out for Apulian Trulli and old farmsteads in the Salento area.
Other different types of articles, when applicable, can be attained from restorations. For instance, by obtaining showcases from wooden cabinets through substantial modifications of the structure.
We can create all sort of metal-based furnishing pieces.
Single beds, king beds, window grates and other types of grates, tables, chairs and much more have been made of wrought-iron based material.
Failure to have architectures to start from, we arrange a preview for the final result to clients before starting our work.
We even manufacture lighting items such as brass and iron-made lamps and appliques.
We take pride in succeeding since our master craftsmen team have gained skills in the past within the lamps companies. We always guarantee experience and professionalism when working on products.
Contact us to make
a free consultation
PHONE – MAIL
0883 594344 – info@antichitarestauri.net
Adresses
Antique store:
Via Pomponio Madia 2, Andria (BT)